I know, I know – over the last week there has been a steady flow of 2012 reviews and 2013 predictions , but as I've already spoken about in an earlier post, looking at the behaviour, developments and decisions made by the global search engines can give us useful insights into what they are focusing on, and therefore where we can (and should) focus our own international search efforts. After all, search engines significantly more data on global user behaviour than the rest of us.
So that I'm not writing this until 2014, I've only picked a couple of areas and I'm specifically looking at Google, Baidu and Yandex (*other search engines are available).
Personalisation and Social Search
There is no doubt that 2012 was the year of personalisation, with Google's Search Plus Your World making its debut last January. Since then, we've seen an increasing amount of personalisation creep into Google search results and increased importance attached to social search. In Google's case, Google+ clearly has the most impact however other social properties are also being more heavily integrated into the SERPS.
Major news from Yandex in December was that it was launching personalised search. Unlike Google, this is based purely on your search history and behaviour, rather than the preferences of friends/connections and according to Yandex improves the quality of 75-80% of all its results.
Yandex has also given increased importance to social results, starting to display content from social networks in results last February. With over 2 million "people" searches made daily in Russia, Yandex saw a real need to include social profiles in results, both from local sites Vkontakte, LiveJournal, and Odnoklassniki, as well as global sites such as Facebook and Twitter.
Baidu won't be listing any Facebook or Twitter results any time soon, as usage of those sites are blocked in China however it did partner with popular Chinese microblog Sina Weibo to integrate posts on trending topics into results. We're yet to see personalised results appearing in Baidu – one for 2013?
Global Search Takeaway: Social is important everywhere and if you want to rank well anywhere in the world, you will need to integrate social into your strategy. This, of course, means going beyond a Facebook and Twitter profile and thinking about developing a presence in the local language, selecting the platforms which are most popular in your target markets (it isn't always Facebook) and actively engaging with your target audience.
Semantic Search
This has been a major focus for the engines, as the quest to understand user intent continues. Across the board we're now seeing more information appearing directly in search results, often answering the searcher's query before they've even had to make a click.
For most of us, Google's knowledge graph is 2012's major development in semantic search. Only available in English speaking countries until late last year, Google has begun to roll it out in other languages and it looks set to become a key feature of the search engine in 2013. From an international perspective, seeing how Google improves the geo-targeting of the Knowledge Graph to ensure its returning relevant results for locale as well as language will be interesting.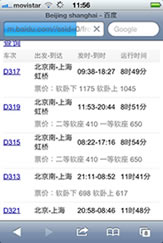 Baidu was first out of the blocks on semantic search, having introduced its version 'box computing' in 2009. This provides information directly on to the search page, based on queries (the example shows train times from Beijing to Shanghai). Baidu doesn't automatically select results to display in this format, rather the information needs to be submitted specifically to the search engine.
Yandex has also been experimenting with similar techniques, introducing Yandex Facts and Figures which displays basic data for queries whilst the query is being entered, without requiring the user to go any further than the search bar. Yandex is yet to offer quite as a full a solution as Google or Baidu, but knowing the constant search innovation that goes on at Yandex, my guess is it won't be too far away.
Global Search Takeaway: All of the search engines are becoming increasingly sophisticated in the way they analyse and present data – and more importantly, users are becoming increasingly used to having information readily at their fingertips. Understand which information the search engines in your target markets need from you and how they use it – and make sure you provide it. Sure, submitting data to Baidu (which only has a Chinese interface) might not be straightforward – but doing so could give you increased visibility in a large, growing market, so it's probably worth the money and effort to do it!
Getting More Local
Local search is only getting bigger, and this presents both great opportunities and challenges for global marketers – as they try to connect with numerous audiences around the globe, on a local level. The global search engines clearly see this as an opportunity and have been investing heavily in improving local search features.
Maps and mapping technology has certainly been at the forefront of development for all search engines. Already well-established, Google Maps has added a range of new features from voice search to cycling navigation functions to user map reviews.
Google did lose out in Russia, with Yandex partnering with Apple to power all maps on their devices (watch this space for Yandex becoming the default search engine on ioS devices). Yandex has been developing its mapping technology to improve accuracy and functionality and it is an important step for them to take ground from Google. In typical innovative style, Yandex has been using its technology to offer a very localised service – taxi booking services in Moscow. In a city notorious for being difficult to get a cab, Yandex uses location data to match partner taxis with users – drastically reducing waiting times.
Baidu is keeping up – focusing on improving mapping on smartphones. Its latest update in 2012 saw a wave of new features – including discount vouchers for local stores and real-time traffic updates.
Global Search Takeaway: Users around the world are increasingly looking for more localised information, and features, functions and solutions that relate to their daily lives, activities and problems. The Yandex taxi service is a great example of a company understanding its users and reacting to an issue they face – something that could only come out of local and cultural knowledge.
Looking at what the search engines are doing globally is one way (of many) to gain some high-level insights into global behaviour and trends, but also to help inspire new ideas and opportunities for driving your business forward on an international scale. As the search engines are our vehicles for reaching our audience, why not use the information they are giving us and maximise their potential as our messengers.
Tags
baidu (8)
Google (673)
International SEO (15)
search engines (18)
yandex (26)