And here I am, Rand and John, wearing my tin foil hat for the occasion.
Because, let's be honest, every single SEO blog is writing about how to use the new long awaited Disavow Links Tool the Search Quality Teams has rolled out, but not so many are publicly talking about what it may mean.
First of all, let me put the dots above the "i".
I consider the disavow links tool über useful in some cases. For instance for sites hit by Penguin, which cannot remove toxic links for whatever reason. Or for those sites that have been hit by a negative SEO attack and do not have a robust link profile able to mitigate the attack itself.
The tool is surely of great help, if used responsibly.
But experience has taught me a few things:
A big percentage of SEOs tend to hysteria. If there is an official tool, which let them disavow even lightly suspicious links, they will use it, replicating that craziness of sending emails to legitimate sites for quitting an harmful backlink;
The biggest parts of site owners are "self-made-SEOs" with very poor knowledge of what SEO really is (to not talk about link building). I strongly suspect that their ability in discriminating toxic links from apparently-toxic-but-not-so ones is quite weak;
There is always someone who is already thinking how to use that same Google tool for tricking Google itself;
Google when does something, does not do it for just one reason.
The hysteric SEOs

If you follow me, you know how I consider Content Curation a very good Content Marketing tactic and a great way to approach sites for potentially build a relationship and, then, link building occasions. For those reasons it is a tactic I apply also to my clients' sites, and it is totally legit and absolutely natural link building for the linked sites.
After Penguin I started receiving emails from site owners asking me to "delete" those links! I usually managed to return them to reason, explaining them what were those links really affecting their sites.
But now, with a disavow links tool, I fear that those same site owners will simply ask Google to not consider my curation links, implicitly saying that my clients sites are spammy and not cooperative. Surely something I would not really like to be told of to the Google Search Quality Team.
The ignorance effects
Not every site, especially in the small business niche, has an SEO in-house or have a freelance consultant or an agency managing its Search Engine Optimization, but have web developers or even the same owner doing "SEO".
Usually the link building done by that kind of "self-made-SEOs" is quite poor simply because they ignore the evolution it had along the years, and they still rely on not-tactics like massive directories submissions, forum and comment signatures, cheap text link buying, links exchange and so on.
Many of them were hit by Penguin, or received a manual penalization for manipulative link building, but they really do not know how to discriminate a toxic link from a good one.
It is quite easy to imagine they will ask Google to disavow, for instance, every backlink they receive from directories, also from those few that still may have a value (for instance some niche directory or still well human edited ones), or every backlink they put in blogs, also above any suspect ones.
All right, we know that Google should be able to understand if some links are really to be disavowed or not, but the negative halo is something that will remain and, as the ancient Roman were used to say: "To be considered honest you mustn't just being so, you must seem honest too".
The perverted SEOs
The disavow link tool is directly connected to your Google Webmaster Tool profile.
I cannot but imagine that right now there is people out there thinking how to hack those profiles in order to submit fake disavow link lists, where will be included also the good backlinks a site may have.
I know, it is a little bit paranoiac, but if I were you I would start using the 2-step verification of my accounts and change regularly my Google passwords.
But, apart that technique, which could be done by very good black hat SEOs, there is also another very simple opportunity, which can be used by almost everyone, who may consider the web a battlefield.
The Linkapocalypse. Did the countdown start?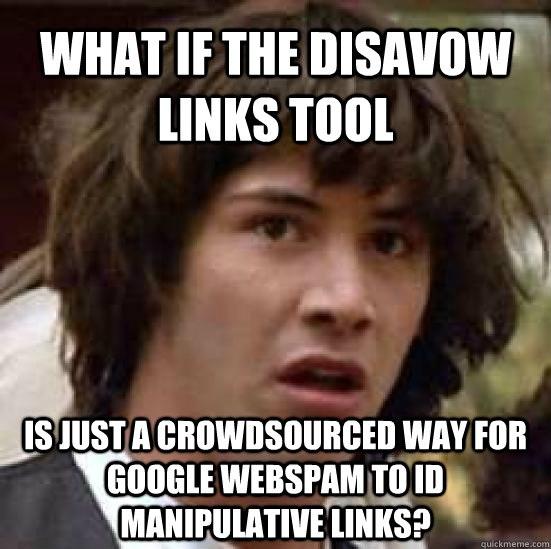 During the last SES San Francisco, Matt Cutts told that the next Penguin should be "Jarring and Jolting".
Then, he clarified his declaration to Barry Schwartz:
Google needs data. It needs information to really understand if a site is part of a manipulative game. It needs to feed the Penguin algorithm.
Sure, Google was able to collect that kind of information for spam reports, blocked sites on SERPs data, the same reconsideration requests by the webmasters… but it needs still to discover those sites, which are not so visible (the real public networks, for instance), or those that sells links (like blog reviewers).
From that perspective, the disavow link tool seems a ginormous Survey Monkey with this open question: "What site do you think must be considered as source of manipulative link building?".
In an ideal world, where all webmasters and SEOs are paladins of the Google best practices and really knowing SEO, that would something wonderful. Finally Google would know what backlinks to discount and the SERPs will be really showing the best results.
But we are not living in an ideal world, and many SEOs did bad link building and many site owners did not care if what they were doing was good or bad, if it was useful to reach their objectives.
We are not living in an ideal world, because a big part of the link profiles are based over the ignorance of a what a link should be.
And we are not living in an ideal world, because we all know that some of the trusted seeds are involved in manipulative link building, but their status is such that hardly they are punished.
We are not living in an ideal world, because algorithms are never perfect, and my concern is how a so fed Penguin algo will be able to understand the difference between positives and false positives. The linkapocalypse to come may slaughter many innocent sites.
And we are not living in an ideal world because to disavow links is not synonym of ranking better. Especially this is important to be understood. If you are cleaning your link profile, you will still need to replace those disavowed links with others of better quality and really much harder to earn… and what experience tells me is that not many are those businesses ready to engage in what really is modern link building, because it is mostly based on Content Marketing and real Content Marketing is everything but cheap and simple.
Ok… stop, quitting the tin foil hat.