With over 530 million internet users, China is a huge online market and one that is becoming increasingly attractive to businesses looking to grow internationally. It is also one of most, if not the most, complicated markets to target, with factors from language to bureaucracy, censorship to culture providing search marketers with some interesting challenges to overcome if they want to succeed there.
And we can't even rely on our trusty friend Google to help us navigate the Chinese search maze, as its search share is less than 10%, but instead must look to home grown search engine Baidu to spread our message to the Chinese audience.
Baidu is the undisputed leader in Chinese search, and until recently claimed almost 80% of the search share. It took a hit in August this year when Qihoo, a local security vendor and internet provider, launched its own search engine and gained around 10% share almost immediately but it still handles 60-70% of all web searches in China. So if you want to succeed in China, you need to optimise for Baidu or you're losing access to  around 65% of 500 million users ( you do the maths!)

So what does optimising for Baidu entail?  This is by no means a comprehensive guide but here are few things to consider when you're embarking on SEO for your Chinese website.
Check your Chinese
It might be obvious, but it's important! Simplified Chinese is the official language of China, and therefore the language used and recognised by Baidu. And it goes without saying that you also need to make sure the language is accurate and grammatically correct – so use a native speaker to create/review all content.
Keywords, Keywords, Keywords
Baidu, like any other search engine, places a lot of value on keywords. The title tag is the most important and meta-descriptions also have value. Keywords tags should be used properly but are less important for rankings. Worth noting is that it's very important that the keywords used on-page match those used off-page or Baidu will impose penalties on the site.
CTR is also a factor in the Baidu algorithm, so carefully crafted titles and descriptions to encourage clicks will bolster rankings in this way as well.
And of course, keyword research is essential – ensure you use Baidu's keyword research tool to get accurate data on what Baidu users are actually searching for.
Go Local with Hosting and Domains
The value of local hosting, and local domains, is often debated by SEO's – but when it comes to China there is no debate. Baidu favours sites using the .cn ccTLD and those which are hosted in the country. Page load times are also an important factor, and websites hosted outside of the 'Great Firewall of China" will be significantly slower than those hosted in-country.
That said, setting this up is not straightforward. There is a lot of red tape and a variety of licences and documents are required to be able to run a website in China. Unless you already have a registered business there, you will need to work with a local agency or partner to manage the registration.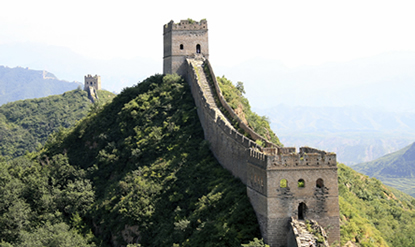 Semantic Search
Google's knowledge graph has been big news this year, but Baidu claims to have been integrating its own version -'box computing' – since 2009. It works in the same way as the Knowledge Graph, displaying relevant data and information directly on the SERPS above the main results.
This data does have to be submitted specifically to the platform and isn't generated automatically from the algorithm. It can be done using Baidu's Aladdin platform, which accepts XML files and verifies the data.  This feature is also enabled for mobile – and as China has more mobile than desktop users, represents a significant opportunity for businesses using it.
Search is Going Social
Unsurprisingly, social is playing an increasingly important role in search. The strict censorship laws mean that global sites including Facebook, Twitter and YouTube are completely banned in China however there is a host of local social networks which are vastly popular (6 of the 10 largest social sites globally are from China). Earlier this year Baidu agreed a partnership with Sina Weibo, the Chinese Twitter equivalent, and now indexes Weibo posts in its results pages.
Use Baidu Products
If you think Google has a lot of its own products, check out Baidu's range! SERPs in Baidu will often be dominated by results from its variety of products, which include news, image and video as well as products such as Baidu Zhidao (Q&A), Baidu Baike (wiki) and Baidu Tieba (Forum). Submitting relevant content to these sites and platforms will dramatically increase your chance of climbing up the rankings.
And a few others……
Avoid using Flash and Javascript on your website –Baidu can't recognise it, and therefore won't index your content.
Register with Baidu's Webmaster Tools (it's only available in Chinese – and is much less comprehensive that GWT ) and submit an XML site map.
Focus on quality links, as well as quantity – links from relevant, Chinese sites will have more value than poor quality or non-local sites.
Optimising for Baidu isn't radically different than optimising for Google but it's worth understanding how the search engine works and adapting your tactics to give your site the best chance possible of success. Simply getting your website up and running in China can be a complicated process –so having a correctly optimised site when you get there will increase the chances of getting a return on your investment and growing your business in this land of opportunity.
Tags
baidu (8)
China (5)
International Search (62)
SEO (437)