This past week I have had the displeasure of hearing a wide variety of social media talk that has me perplexed. Is it not so much that people targeting social media are doing it wrong, or even that they have the wrong intentions. The problem merely is that they don't understand what social media is, how to interact with it, and how they benefit from it.
I recently walked past a meeting room where a start-up was deciding which route to go with social media. A very boisterious message was delivered fromt he guy who is presumably in charge – "What social media platform are our customers reaching out to us the most?" The answer came, and his closing was "great let's target that."
NO! WRONG ATTITUDE, WRONG DRIVE. This is why very few middle agers "get" social media (SoMe). You don't just go where your consumers are now, you go with where they will be. Social Media is not a singular network anymore. It is like traditional social groups now – techies/nerds frequent in one area, socializers in another, women in a few other places.
KNOW WHAT YOU WANT– You don't just want one interaction or one "like" or "+1", you are going after reshares and content syndication.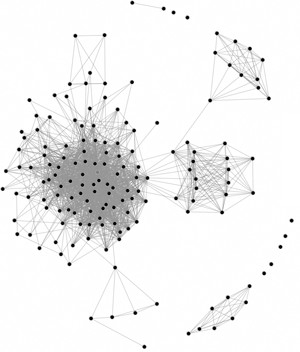 You WANT the network of dots! The picture on the left represents a single share on facebook or a single post on g+ or a single tweet – what good comes from that? Your message is out there, but is it REALLY out there? Look at the image on the right, thats the same dot, but shared in a wide variety of different social groups via social media.
KNOW WHO YOU ARE TARGETING – This is the most important part of a given social media campaign. Who do you want to target, why do you want to target them, and how are you going to intice them? Admittedly, I don't spend much time on social media anymore. But, I do have some insights on where to target individuals. Disclaimer: These may be broad generalizations, but I really don't care.
Hipsters – Tumblr.
Women – Pinterest, Tumblr
Techies – G+, Reddit
Socializers – Twitter/Facebook
People just looking to talk to current friends – Facebook
(We will add to this list, sound off with your thoughts in the comments!)
Notice facebook – In my opinion, people go their to interact with connections they have already made. I don't go on to facebook to meet new people, i go there to see what the people who I care about are busy sharing on a given day. This idea seems to really be lost on people, the fact that some social networks don't exist to readily be manipulated. Get used to it, because (sadly) not everything on the web exists to be manipulated.
KNOW HOW TO SHARE – This is often times easier said then done, and I understand that. I think the easiest way to get the most new shares is to set up an infographic of some sort. That is a hard thing to make, but they get shared far more often then a string of words or anything like that.
The bottom line is that you have to go to the people you want to target. They won't necessarily come to you. Know who you want to target and know what you want them to do, it's only by doing this kind of process that you will see not only your social network grow but your message spread.
Share early, share often…and let's hear your thoughts on what people go where on the web.
Tags
social (56)
social marketing (13)
Social Media (278)
social targeting (3)