It seems that everyone who's even remotely interested in search and social media has jumped on the Google+ bandwagon. This has lead to a rather explosive growth of Google's social network, with the 20 million users mark expected to be hit this weekend: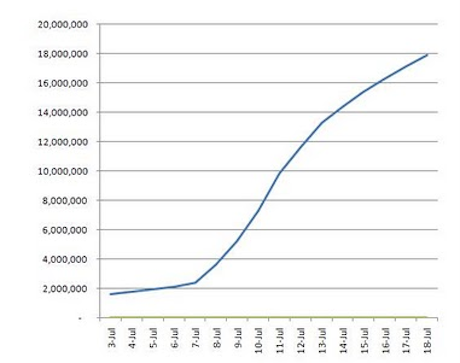 Hitwise figures show that the daily amount of visits to Google+ has so far peaked at 320,000:

The slight dip at the end is interesting, as it might indicate that for some users the shine has already started to fade.
And in terms of time spent on Google+, this still lags behind Facebook:
"For the week ending July 19, 2011, the average visit time for Google+ was five minutes and fifty seconds up from four minutes and fifty two seconds the week prior. While the average visit time has increased since launch, in comparison, users spent an average of 21 minutes and fifty seven seconds on Facebook last week."
So while Google+ has so far seen a very good start, it's yet unclear whether it can present a genuine threat to the likes of Facebook and Twitter.

Tags
Facebook (159)
Google Plus (71)